By ALLISON HORTON
Special to South Florida Times
FORT LAUDERDALE — Malcolm was being raised by an abusive mother in his Fort Lauderdale home until Kids In Distress (KID) placed him in foster care. Now 26, Malcolm is teaching English to kindergarteners in Beijing, China, and is a graduate of Florida A&M University.
His journey from abuse to independence will be related in a video at the third annual White Party charity fundraiser – so called because everyone is asked to wear white – sponsored by the Zeta Alpha Lambda chapter of the Alpha Phi Alpha fraternity on Saturday.
The 60-year-old fraternity chapter is headed by attorney Keathan B. Frink.
KID works to prevent child abuse and aid children who have been abused and neglected. It provides services for more than 10,000 children and their families in South Florida.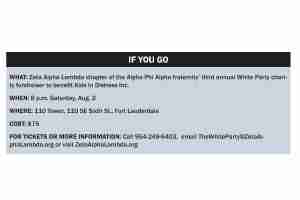 Russell Motley, a White Party committee member of Alpha Phi Alpha, said the fundraiser event got started after a fraternity member met a child in the organization and wanted to become involved. "He felt the need to reach out to the children in the agency," Motley said.
But, he added, "Federal and state funds are limited. It is crucial that private donations are added to the budget so that African-American children can benefit from social services."
The White Party fundraiser took in $16,000 for KID its first two years and about 300 guests are expected at this year's edition, a big increase over the 189 who attended last year.
About 40 organizations have partnered with the fraternity to donate services, including Le Cordon Bleu College of Culinary Arts which will provide gourmet food.
The venue, 110 Tower in Fort Lauderdale, with its terrace and open ocean view, and entertainment, were also donated. Darnell Butler and Xpressions will perform live on the terrace and a DJ will spin music inside. Miami Heat tickets, hotel stays and golfing passes will be among raffle items.
"KID is something extra we do … because it involves African-American children," said Motley, adding the fraternity also mentors teenage boys and provides college scholarships. "That is why the brothers and I take it very personally."
Motley, a broadcast journalism professor at Florida Memorial University, prepared a video of Malcom's life journey to be viewed at the fundraiser.
"It shows how KID jumped in and guided this young man's life," Motley said.
KID CEO Mark Dhooge said his organization welcomes efforts such as the fundraiser. "KID relies on strong partnerships to help continue our mission and we are fortunate to count the Zeta Alpha Lambda chapter of the Alpha Phi Alpha Fraternity among our supporters," he said.
"Their annual White Party helps raise much-needed funds for programs like therapy and foster care and we encourage our community to help put the 'fun' in fundraising by attending this fantastic event on Saturday."
Motley says he speaks on a regular basis with Malcolm, who turns to him for advice and mentorship.
"He calls me his big brother," Motley said. "He still needs guidance. He never had a mother or a father growing up. He wants to tell his story to get the word out about foster care and their need. I commend Malcolm for recognizing the needs of children in that position."